The Library is open Tuesdays and Thursdays 1 – 6 pm. 
Our next book club  selection is:  Carnegie's Maid  by Marie Benedict.  The meeting will take place Tuesday, February 7th at the library at 6:00 pm.
Look for story time dates on the last Saturday of the month,  The next story time is scheduled for Saturday, January 28th at 10:30 am.
We are having a Book Bingo which will have a reading time  between Jan. 1 to March 31.  Two bags of goodies will be given away after the end, sometime in April.  You can come to the library and get your bingo card and rules.  Have fun!
If you would like to help donate to the library, there are several easy ways:
The Hannaford's CLYNK bottle return program.  Come to the library and pick up a green bag with our barcode.  Just take to the Hannaford's in Turner and  scan the bag and drop off. 
We just started  with Coach Terry's bottle redemption programs in Turner.   Just let them know it's for the Livermore Library in Livermore. 
Also check our Instagram and Facebook pages for news.
The Library subscribes to the Cloud library where patrons can download E-books and audio books.  Go to our website   http://livermore.lib.me.us/ 
Follow the link and directions under Ebooks. You will need a password so if you haven't yet established a password please e-mail us and we'll set you right up:  amanda.lpl.7173@gmail.com(207) 897-7173
22 Church Street, P.O. Box 620, Livermore, ME 04253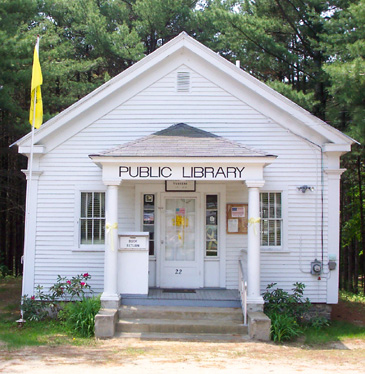 ---
The Livermore Public Library has 2 computers that are fully equipped with software packages and Internet Access.  These are for patrons' use and there are no fees involved.  A heartfelt "Thank You" to the Stephen & Tabitha King Foundation and to the Bill & Melinda Gates Foundation for their generous contributions that enabled us to purchase new  computers!  We also have wireless access for those that would like to use their own devices.
---
The Livermore Public Library Association was incorporated on May 25, 1917. The library building has been located on town maps dating back as  far as 1850.  This privately owned library is generously supported by the community and has always been staffed by volunteers.  We invite you to stop by and become acquainted with our delightful small town library.
---